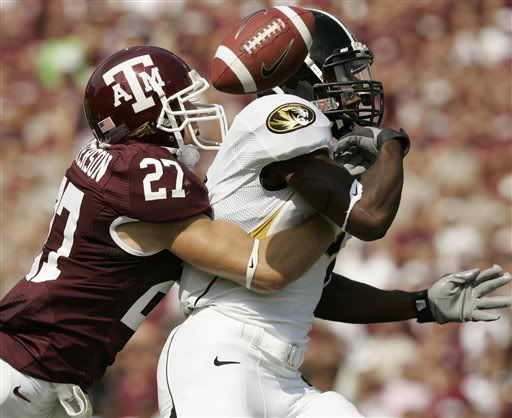 Texas A&M - 25
Missouri - 19


"there is no stopping the Mizzou spread offense"


- the12thManchild, on any given week this season
... i graciously stand corrected
Pass the Kool-Aid!!



WRECKING-CREW! WRECKING-CREW!


hell yeah i'm saying it. While the terms

stellar

or

perfect

wouldn't describe the defense,

ferocious

,

determined

, and

heart

would. The

Crew

stepped up and made big plays, holding Chase Daniel & Co. to 1-8 on 3rd Down and 1-3 on 4th. The heads-up play by Jordan Peterson on the 3rd play of the game exemplifies this defense. They've been picked on all season, yet through sheer strength of will and a refusal to be defeated they've continued to smash their critics in the mouth.



Jorvorskie Smash!


Avalanche, bowling ball, freight train, rhinocerous? take your pick. No matter how you choose to describe it, in the 4th Qtr of that game, Jorvorskie was the stampede of wildebeasts to Mizzo's

Mustafa

, relentlessly trampling any life out of the already broken Missouri defense. Woe is the opposing defense, woe is they.



McGee is my Homeboy


Stephen may not be blessed with a "strong throwing arm" or be "wickedly agile", and he may not be a speed reader when it comes to routes and coverage, but i'll take his spirit and leadership over the Chase Daniel's and Troy Smith's any and ever day of the week!


Atkins, South Beach, TrimSpa,....

Timex

?
The Aggies controlled the ball for a ridiculous 41:30. Fran's strict diet of clock helped the Ags' decrease it's intake of Mizzou's saturated offense and decrease it's level of defensive exertion.


Sobering up..



Oh god...what happened in the first half?


3 times!!! thricely they just give us the ball..and what did we do? we fail to capitalize on 2 of those 3 gifts. how the hell did we go into halftime

TIED

?!?!? WTH were we doing out there? almost blowing the game, that's what.




3rd & 4th Down Conversion


Sure, when the defense managed to force a 3rd down, they stepped it up and smashed the Tigers in the teeth, allowing only 1 conversion...but that's an awfully misleading statistic. Mizzou only faced a 3rd down

8 TIMES THE ENTIRE GAME

, they absolutely dominated the zone defense on 1st & 2nd down.


despite the exhilirating win at Kyle, there is definitely room for improvement. Now that the Ags are finally getting the national respect they deserve, the next couple of games are
theirs to lose
. Don't let the records of
Oklahoma State
and
Baylor
fool you, they both run wickedly effective spread-pass offenses, targeting our still perilous secondary play.
BTHO OSU!